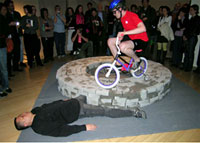 Lin Yilin, A Kind of Machine Called "Liberation", Video of performance, 8 minutes, 2003.Venue: Asia Society, November 21, 2003.
Artist: Lin Yilin

Curator:Shin-Yi Yang

Exhibition Dates:
Saturday, February 7, 2004 to Saturday, March 13, 2004.

Opening:
Friday, February 6, 2004. 6:00-8:00 pm.

Slide talk:
Thursday, February 19, 2004. 6:00-8:00 p.m.

Venue:
Ise Cultural Foundation Gallery, 555 Broadway, Basement Floor, New York, NY 10012[Between Prince/Spring St.]

Gallery Hours:
Tuesday through Saturday, 12 noon-6pm.
Closed on Sundays, Mondays, February 14, 2004.
Admission Policy: Unless otherwise noted, all events are free and open to the public.

Admission Policy:
Unless otherwise noted, all events are free and open to the public.
---

ISE CULTURAL FOUNDATION is pleased to present the exhibition, "Move On : Lin Yilin", featuring works by Lin Yilin. "Move On : Lin Yilin" features an installation, paintings, and the video works of the artist's performance. These works will address Lin's use of brick as a concept of individual expressive means of production, in contrast to the geometrical dictated result. Here an installation meets a performance as they converge into the spatial practice of artistic production. The expressive production reveals how the mechanical technology of architecture can be used to evoke the artist's cultural identity in material form. This architectural form signifies how the practice of art reveals human existences through such social issues as population.

These artworks introduce the artist, Lin Yilin to American viewers, and provide the first opportunity to explicate to them the relation between contemporary Chinese art and modern China, through the dynamic hybrid of installation, performance, and video art. Lin Yilin first established his reputation in the field of international contemporary art in the early 1990's, as a founding member of Big Tailed Elephant, an art group based in Guangzhou, China. During this period, he produced installation, public art, and performance to express his radical take on Guangzhou's spatial transformation from feudal to modern. His works exemplifies the living reality in major cities in China, and formulates the essential form of the geometrical construction. He moved to the States in 2001, and his exposure to a new culture raises some important issues for contemporary Chinese art. The installation he plans for the ISE Cultural Foundation will reflect upon this concern over cultural identity and boundary crossing, and we can realize how the contemporary Chinese artist's self-expression reflects upon cultural flux through various aesthetic media.

His works on view in the exhibition basically interpret the interesting dialogue between architectural transformation and technical production, and examine this conversation under the social and political frame of what we can call "modern" China. The architectural practices developed over the current past reflect China's modernization and urbanization under Western influence. This emerging phenomenon provides a wonderful opportunity for us to explore the ambiguous relationship between productive means and social evolution. Lin's concept of art draws upon this critical issue in contemporary China, and examines how the aesthetic practice of art interacts with the transformation of social reality in the global society.

The show is curated by Shin-Yi Yang, the New York based art curator and critic. He has curated shows in New York, Shanghai, and Beijing. He recently curated a show on the theme of migrant works in Beijing in 2003. The show was organized by UNESCO, Beijing office. He is also a contributing art writer for NY Art Magazine. He is completing a Ph. D. dissertation on the cultural development of Chinese electronic art in the 1990's at Cornell University.

As part of this exhibition, Slide talk will be held by the artist on Thursday, February 19, 2004 at 6:00-8:00 p.m.
Please contact Ise Cultural Foundation Gallery for additional information .