November 30, 2007 - January 11, 2008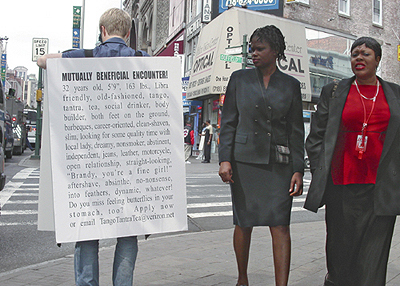 Art Hijack + Dance Gang・Lynn Hershman-Leeson・Christian Jankowski・Leigh Ledare・John Miller・j. morrison・Nadine Norman・Tanja Ostojic・Alexandria Pembleton・Ana Prvacki・Wooloo Productions

Curated by Emma Brasó, Dan Leers, and Margot Norton



Ise Cultural Foundation is pleased to present In Pursuit: Art on Dating, curated by Emma Brasó, Dan Leers, and Margot Norton. Featuring the work of established and emerging artists and collectives, and encompassing a wide variety of media, this exhibition explores the theme of dating and the pursuit of relationships in the 21st century.

Dating is an all-pervasive social phenomenon in contemporary society. Regardless of whether or not one is actively participating in the dating "scene," the pursuit of companionship and sexual liaison is prominent in our everyday lives. It pervades our culture—as a mainstay of TV shows and commercials and as the focus of newspaper personal ads and targeted Internet websites. Its ubiquity informs our relationships and shapes our behaviours and actions.

The artists included in this show examine various forms of dating, all fertile ground for their witty and provocative artistic explorations. Their results comment on the fast-paced, technology-driven world in which we live. Many use the Internet as a tool to meet and interact with potential dates, while others embrace the possibilities of face-to-face encounters. The distinctive approaches they take—from using the artist-curator relationship as a dating metaphor, to forging a new form of self-portraiture through the personal ad—lead to a new and exciting investigation of contemporary dating.